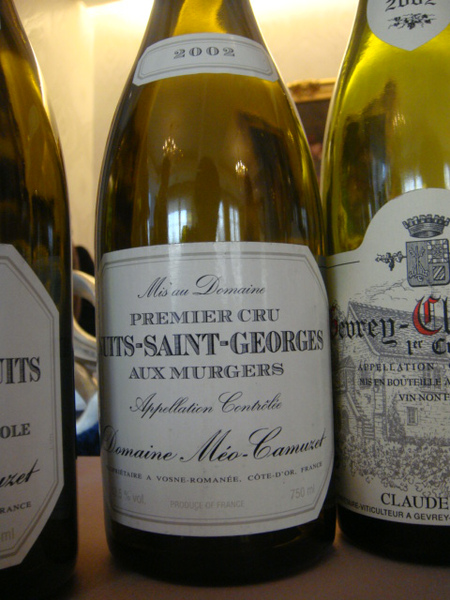 Domaine Meo-Camuzet Nuits St. Georges Aux Murgers 2002
以下來自酒廠網站的介紹:
2002 A great classic year
A providential north wind brought us maturity and acidity, and gave us fresh, concentrated and intense wines. However, their structure can be felt, and this vintage is more destined for keeping. The analysis of the wines is almost identical to 99, but this vintage is marked by the structure, with a touch of acidity which tends to pinch at the finish. The integration is gradually occurring and this vintage is very promising. It should be kept, even if the Clos de Vougeot and the Nuits Boudots are offering us some fine tastings.
Tasting
A clearly pronounced personality: powerful, sometimes wild aromas; a marked acidity, which give it a captivating freshness; a fine roundness. In short, an intense wine which has many cards in its hand to win you over.
Keeping
It has excellent ageing potential, which is just as well as it's a wine you have to wait for. One of the last to be tasted in a given vintage.
Vines
The vines are in their prime in terms of age and quality since they were planted in two sessions between 1965 and 1972. They produce grapes which mature very early and no time must be lost in picking them before they spoil. Yet their acidity is astonishing and gives its very distinctive character to the wine.
Surface area, situation & orientation
Lying half way between Vosne and Nuits St-Georges, like Nuits Boudots, ideally situated on the lower (and nobler) part of the hill, and facing east: the soil is fairly fine, even sandy at the top of the plot. The name of the 'cru ' refers to a pile of stones which still exists today, since the soil once had to be 'destoned' in order to render it more suitable for cultivation.
俏妞兒的碎碎念: