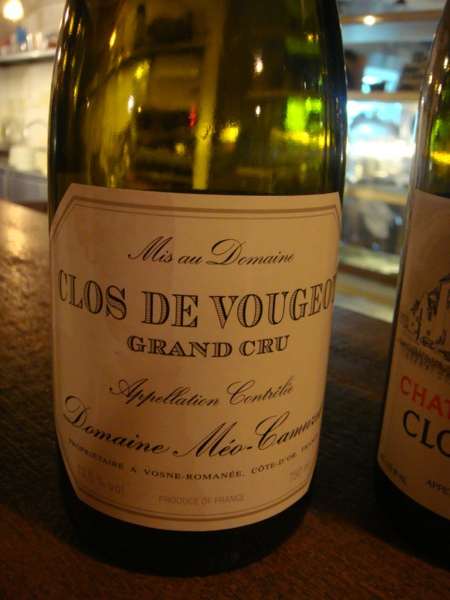 Domaine Meo-Camuzet Clos de Vougeot 2004
以下來自酒廠網站的介紹:
2004 Finesse and balance
A chaotic season, saved by a very pleasant month of September, ended up producing very pleasant wines thanks to strict sorting. The biggest mistake would be to believe that the 2004 vintage lacks maturity. We harvested grapes with high sugar levels and good residual acidity. Which makes the wines very well balanced, perfectly charming wines. They went through a rather difficult period, after they had been bottled, which is gradually coming to an end. Their elegance and a certain fullness will make them very interesting in the coming years.
Tasting
Is this a wine which expresses the Cistercian rigour which gave birth to it? No, its image is rather that of a refined gentleman: the grapes mature early here, but still give wines of great finesse, with a lace-like texture, which lines the palate, with superb length.
Keeping
The inherent complexity of a 'grand cru' can be felt fairly quickly, it is an easy wine to approach. A wine which can be drunk young, but which sometimes surprises us with its longevity.
Maturing
This wine reacts well to new casks, particularly to Tronçais oak. It quickly expresses the style of the vintage but needs to be matured in a way that will bring out its depth.
Vinification
Clos Vougeot is a wine which is always mature, and its texture will always show finesse. Its vinification will aim for more extraction than average (by breaking up the cap, for example) in order to obtain a little more length.
Vines
The work of the roots is immense, as they must go very deep to find what they need. How far down do they go, the vines planted in 1920, representing about one third of the vineyard plot? Another third have reached adulthood, as the vines were planted in the 1960s, the rest being 20 to 30 years old.
Surface area, situation & orientation
We are lucky to be situated at the top of the appellation, at the foot of the 'château'. These vines see more visitors than any others in the 'Clos'! The soil of this vast plot (nearly 7.5 acres), in one piece, has a well-balanced structure, but is not very deep (16 inches of topsoil); here the roots must work their way down through the cracks in the rocks.